Flat Roof Waterproofing Coating
Roof waterproofing is critical for structural integrity. Roofs are not just visual features; they fulfill a key role in facility protection. Whether flat or domed, every roof structure has a unique character. As the highest point of a building, roofs are continuously, year after year, bombarded by the elements, frequently giving way to costly leaks. MARIS POLYMERS offers liquid-applied Polyurethane roof coating systems for long-term protection of simple, and/or complex roof structures.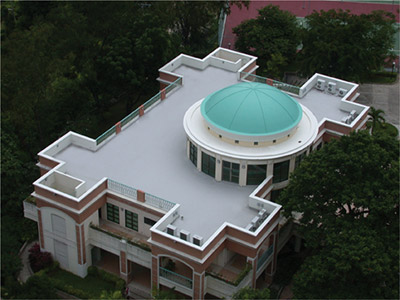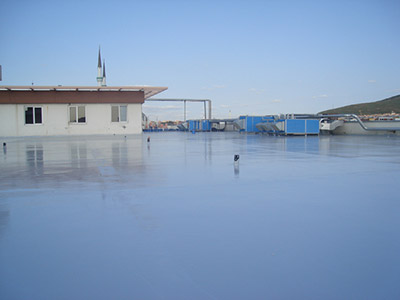 The MARISEAL SYSTEM® is the technologically superior roof waterproofing system – offering no hassle application, full certification, and guaranteed lasting results for your roof waterproofing needs. Ideal for repair and renewal, new vaulted or flat roofing designs, the MARISEAL SYSTEM® polyurethane roof coating (dependent on top coat) can also accommodate daily wear and tear from medium to heavy foot traffic.
Advantages of MARISEAL SYSTEM® at a glance
| | |
| --- | --- |
| - Simple Application(Roller or Airless Spray | - High Sun Reflectivity, helps with Thermo Insulation |
| - Forms Seamless Membrane without Joints | - Remains Flexible over a temperature span -40 to +90 degrees |
| - Resistant to Water, Heat, and Frost | - Resistant to Root Penetration |
| - Exceptionally Adhesive to practically all surfaces | - Crack-Bridging |
| - Usable for Pedestrian and Vehicular Traffic | - Water Vapor Permeable |
| - Resistant to Detergents, Oils, Seawaters and Domestic Chemicals | - Provides Excellent Thermal, Weather, and UV Resistance |
| - Application does not require Open Flames (torch) | - Waterproofs old Bitumen-,Asphalt Felts |
| - Over 15 Years of Positive Feedback Worldwide | |
Proposed Build Up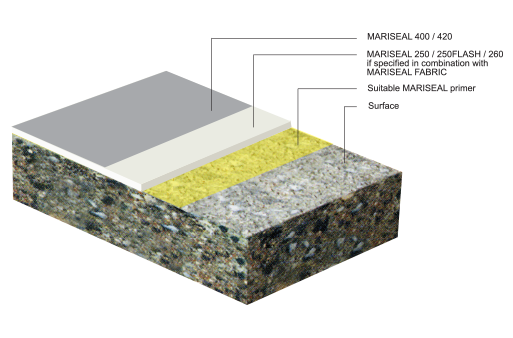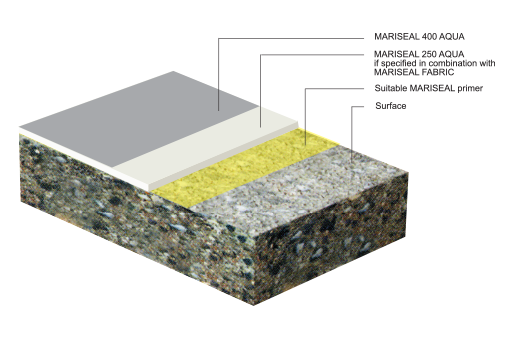 Back to Mariseal Page