Maris Polymers
Maris Polymers is a waterproofing systems house and one of the leading European specialist in polyurethane liquid applied waterproofing products and cold curing polyurethane resins for the Construction Industry. In addition, Maris Polymers proves technological leadership by offering a whole range of special solutions and customised products.
Founded in 1989, Maris Polymers S.M.S.A. is one of the fastest developing manufacturers of polyurethane liquid-applied waterproofing membranes and resins in Europe. Its stable growth comes as a result from its innovative and quality products, its highly specialized personnel and the value-added services provided to its clients worldwide.
Maris Polymers delivers individual solutions worldwide from the production facilities near Athens, Greece. Reliability, focus on service and innovation are the values Maris Polymers lives by every day in its customers' interest.
View Our Product Range
WATERPROOFING SYSTEMS
Waterproofing systems are produced by MARIS POLYMERS as to fulfil the customers' requirements.
MARIS POLYMERS has a strong focus on waterproofing systems and produces a wide range of different products and systems being one of the leading worldwide polyurethane waterproofing materials manufacturers for the construction industry, meeting todays customers' requirements and complying with the latest technologies and standards.
MARIS POLYMERS systems are used in new buildings and renovations. A great number of customers in more than 70 countries worldwide put their trust in our sophisticated waterproofing and coating systems. Discover for yourself our services, our solutions, and the proven safety of MARISEAL and other systems.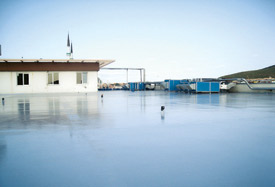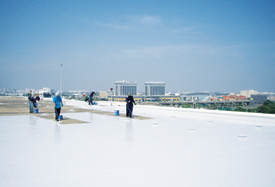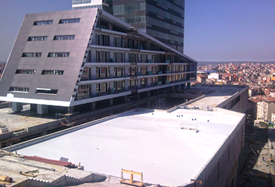 DIFFERENT WATERPROOFING SYSTEMS
How a building is used and constructed are keys factors in the selection of the correct waterproofing system needed. We have the perfect solution for every situation.
Please press the below buttons to view each system
CASE STUDIES
In the best interest of our customers we have compiled the below case studies of projects from around the world to showcase the full Maris Polymers suite of products
Advantages of MARISEAL SYSTEM® at a glance
| | |
| --- | --- |
| - Simple Application(Roller or Airless Spray | - High Sun Reflectivity, helps with Thermo Insulation |
| - Forms Seamless Membrane without Joints | - Remains Flexible over a temperature span -40 to +90 degrees |
| - Resistant to Water, Heat, and Frost | - Resistant to Root Penetration |
| - Exceptionally Adhesive to practically all surfaces | - Crack-Bridging |
| - Usable for Pedestrian and Vehicular Traffic | - Water Vapor Permeable |
| - Resistant to Detergents, Oils, Seawaters and Domestic Chemicals | - Provides Excellent Thermal, Weather, and UV Resistance |
| - Application does not require Open Flames (torch) | - Waterproofs old Bitumen-,Asphalt Felts |
| - Over 15 Years of Positive Feedback Worldwide | |
Downloadable Application Guides
| | | |
| --- | --- | --- |
| Application | Uses | Guide |
| Waterproofing | Waterproofing System for Flat roofs & Balconies ETAG 005 | Download |
| Waterproofing | Waterproofing System for Flat roofs & Balconies | |
| Waterproofing | Waterproofing System for Heavy Duty Areas | Download |
| Waterproofing | Transparent Waterproofing Heavy Duty for Roofs & Balconies | Download |
View Our Product Range